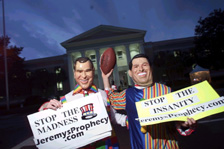 Sam Phillips and Alex Burton pose in front of the Florida Supreme Courthouse during the post 2000 US presidential election mayhem.
Photo courtesy of Ozier Muhammad / New York Times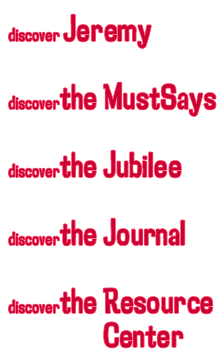 What is this site about? Jeremy's Prophecy Dot Com is a multi-faceted, multi-media, web-drama created by a Group dedicated to telling the curious story of Jeremy Jacobs, the character in the Novel Jeremy's Prophecy Dot Com, who was compelled by a mission, "to spread his Must Says across the land." In this section we will attempt to summarize the broad nature of this web site by highlighting some of the places to go and explore.
Discover Jeremy Jacobs. Jeremy was born into a humble American suburban home in 1975. He was always a visionary and creative. He was known for predicting events (like President Ronald Reagan's assassination attempt). As a boy he master minded elaborate adventures like building mazes out of playrooms, and rivers out of sand lots. Discover Jeremy's Origin and learn more about his exciting past.
Discover The Must Says. The head cornerstone of this site, the Must Says are the idioms -- the intense, verbose phraseology that Jeremy shared. After his suicide attempt in 1999 Jeremy awoke determined to promote his words. As a result of his forced hospitalization, Jeremy's only means of communication was the Internet. And so it began, Jeremy's Prophecy Dot Com, born out of a need to communicate a message that Jeremy was driven to deliver.
Discover The Jubilee. Back in 1999, just months after this web site was launched, in what seemed like an act of providence, thousands gathered in Portland, Oregon in front of St. Victor's Mental Health Facility demanding Jeremy's release. For weeks people camped in Bohemian fashion. They called it Jeremy's Jubilee. This fascinating section (among other things) documents the events that peaked during that 2000 New Year's millennium celebration.
Discover The Journal. For the nostalgic and the collector in us all comes The Journal section. Discover behind the scenes relics, and living proof of the enigmatic Jeremy Jacobs. Read Sam's Journal during the days just after Jeremy tried to end it all.
Discover The Resource Center. The Resource Center is a database of Internet information showcasing the epidemic known to us as Mental Illness. Learn about diseases labeled, Bipolar Disorder, Manic-Depression, Seasonal Affective Disorder, ADD and the like. Discover the truth about bio-chemistry, mental health, and the powerful pharmaceutical companies. Find healthy solutions.
Discover The Lost Chapters. These days, the mystery surrounding Jeremy's whereabouts is clouded in debate. There have been sightings, peculiar Email messages, strange telephone calls, and of course, the fascinating Lost Chapters. Never, though, have any of us seen him since his final appearance. Nevertheless, these Lost Chapters were sent to us in an inconspicuous envelope via certified US Post without a return address. The author remained anonymous. We offer these chapters to you, readers of the novel, for you to analyze and draw your own conclusions as to their validity. Click here to see how you can discover The Lost Chapters. IMPORTANT: These are password protected. The password can be found inside the pages of the novel which can be found here.