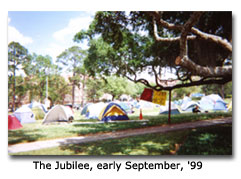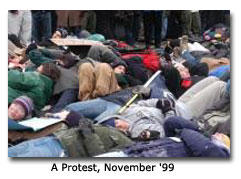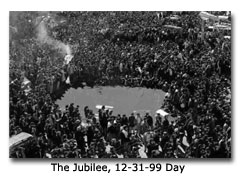 What They Said . . .



"This guy just wants to be free."
Derrick 9-17-99

"I'm here because I believe him. If you listen to him you can see he's for real. Certainly these fat asses prancing around with their billy clubs, they can't have a clue as to what's good for this world. They may know about donuts and beer and football. When it comes to peace and truth, they're like babes in a crib."
Cheryl 11-01-99

"If you've fallen then you can hear him. What I mean is, Jeremy might turn somebody off, somebody with lots of money or sheltered his whole life. But when you've lost your wife and your job and people have screwed you, then suddenly what Jeremy says becomes very clear."
Dale 12-99

"I can't believe the injustice going on here. Who the hell do these people think they are. If the man wants to go, let him go. Here's hurting nobody."
Corin Belliston 12-99

"I've learned so much here from so many people. There is hope after all."
Stacy K. 12-15-99

"I came here for the party. Man what a party."
Chad Garcia 12-99

"If nothing else this guy Jeremy is an inspiration. He's a fighter regardless of the pressure. His persistence is admirable."
Bob B. 12-99

"I'm in shock!"
Heather 01-01-00


Click here to return to the main Jubilee page.