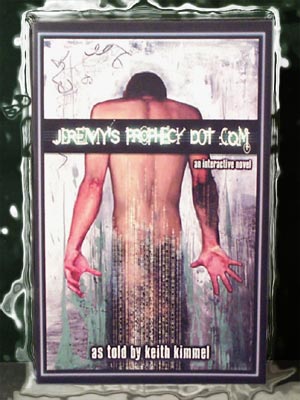 Book Summary



Little did Sam Phillips know the impact his best friend Jeremy's attempted suicide was going to have on the world. He and fellow cohorts Amy and Alex thought it benign to publish a website of bipolar-patient Jeremy's grandiose philosophy. But when greedy capitalists attempt to exploit Jeremy's vision chaos prevails.

Set during the mad 1999 Internet boom, Jeremy's Prophecy Dot Com is a historical fiction novel that explores what happens when hysteria, idolatry and media meet. It illuminates the often ignored, but very serious epidemic of depression and mental illness in modern society.

Praise For Jeremy's Prophecy Dot Com
"Jeremy's Prophecy Dot Com is electrifying, engaging and relevant. It explores the loss of a loved one to mental illness and shares a simple message of joy and freedom that transcends the chaos. It demands readers to examine the madness that is modern capitalism and the reality of a soulless world, yet is replete with hope. Beautiful."



-- Lynn Theodose, Rocky Mountain Bullhorn

"Books are static things - complete into themselves: read, reread, discussed, criticized or praised but always ending up between two covers, either on a shelf or in a waste pile. Kimmel has taken the novel to one logical step further. His novelized study of madness is not confined within the covers of a book, but rather it is a dynamic, evolving story living on the Internet and then preserved as an Internet life of its own after the reader has finished the book. A fascinating concept expertly and adroitly handled. A must read!"



-- Raoul Felder, Author of Getting Away With Murder

"Would I recommend this reading to others? Absolutely; The "must says" guiding you through the text leaves you scratching your head in bewilderment. I found myself eager to learn all I could about this "infamous" Jeremy from beginning to end."



-- Jennifer Hollowell, Amazon.com

"The story is original, modern, and extremely relevant to our times."



-- Robby Richardson, Scene Magazine


Who reads Jeremy's Prophecy Dot Com? Anybody. . . . Anybody who wants to learn more . . . Anybody who is suffering from or has a friend who is suffering from Bipolar Disorder, or Depression, or Alcoholism or Drug Addiction or ADD or any other of the hundreds of mental health disorders that seem to be everywhere . . . Anybody who craves literature and intellectual stimulation . . . Anybody who wants value with their entertainment . . . Anybody who believes in Love. Anybody.

How to Purchase the Book

There are numerous ways to obtain Jeremy's Prophecy Dot Com.

purchase DIRECT from the author (ORIGINAL SIGNED COPY) press

buy now

button

Order from Amazon.com.

Order from your local bookseller.

Contact Veneer for direct orders:

Veneer Publishing, LLC

c/o Jeremy's Prophecy Dot Com

4747 Hollywood Blvd. #228

Hollywood, FL 33021-6503

publisher@jeremysprophecy.com



Distribution


Baker & Taylor (800-775-1800)
Ingram (800-937-8000)
Alibris (877-254-2747)
Broadart (800-233-8467)
Southeastern Books (800-223-3251)


PRICE: $12.95 (Trade Paper)
ISBN: 0-9704054-0-5